iConverter XGT+ 10GBASE-T Media Converter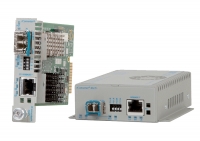 The iConverter XGT+ is an IEEE 802.3an compliant 10 Gigabit media converter that provides copper-to-fiber and copper-to-copper media conversion with one 10GBASE-T RJ-45 port and one pluggable transceiver port. The XGT+ provides a variety of 10G data center connectivity solutions, including resolving interface disparities between equipment with 10GBASE-T RJ-45 ports and existing rack servers or switches with fiber optic or CX4 ports.
OmniConverter GPoE/SE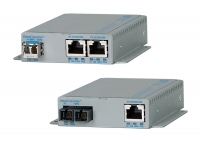 The cost-effective OmniConverter GPoE/SE multi-port media converters provide 10/100/1000BASE-T UTP to 1000BASE-X fiber conversion and support Power-over-Ethernet (PoE). Classified as Power Sourcing Equipment (PSE), they can provide power to a Powered Device (PD) using standard UTP cables that carry the Ethernet data. The compact standalone OmniConverter media converters are available with one or two UTP ports. Each port independently provides up to 15.4W of power to a PD per IEEE 802.3af specification.
GM4 NID with Service Testing and Service OAM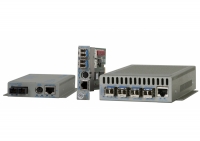 The iConverter GM4 is an intelligent Network Interface Device (NID) that delivers advanced Carrier Ethernet services over one or more carrier networks. The GM4 provides tools for optimizing service delivery and managing the customer experience throughout the lifecycle of an Ethernet service. Network management combined with Service OAM provides higher perceived service quality and workforce productivity, rapid outage restoration, fewer reported problems and greater customer satisfaction. The GM4 enables rapid service deployments with a RFC 2544 test head and zero-touch provisioning, SLA assurances with ITU-T Y.1731 Performance Monitoring, and service reliability with protection switching and IEEE 802.1ag Connectivity Fault Management.
iConverter

HybridNID ™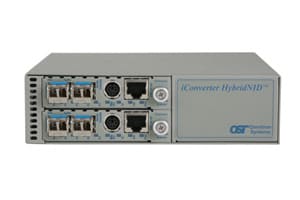 iConverter HybridNID is a Network Interface Device that enables the delivery of carrier-grade Ethernet services across multiple-operator networks with value-added revenue from independent SLA verification.
The iConverter HybridNID clearly defines the service responsibilities between the Service Provider and the Wholesale Operator. The Wholesale Operator owns, installs, manages and maintains the iConverter HybridNID, which is part of the Wholesale Access Service that is leased by the Service Provider. The Service Provider also has management access to provision the service attributes. Both the Wholesale Operator and Service Provider can monitor Service OAM functions.
miConverter S-Series are World's Smallest Media Converters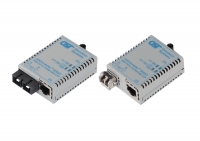 The miConverter S/GXT Gigabit fiber to 10/100/1000BASE-T and the S/FXT Fast Ethernet fiber to 10/100/1000BASE-T media converters are the smallest media converters available. Weighing less than 2.5 oz. (72 grams), and about the length of a standard house key, the miConverter S-Series converters are ideal for mobile applications where light weight, compact size and low power are critical requirements. These ultra-compact media converters can be USB powered, enabling fiber connectivity to locations where AC or DC power is unavailable, such as field-deployed fiber-to-the-laptop and military applications.