Wholesale Ethernet Service Demarcation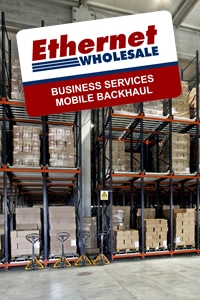 A Heavy Reading five-year market forecast projects wholesale Ethernet revenues to grow by over 30% a year, and concludes that "Wholesale Ethernet is finally emerging as a major, thriving U.S. market." This market growth is driven by demand for business services that connect enterprise customers regionally, nationally and globally across multiple operator networks.
The Metro Ethernet Forum (MEF) Global Interconnect initiative, which includes the ratification of the Ethernet Network-to-Network Interface (ENNI) specification and the adoption of Ethernet Exchanges are enabling these service interconnects.
Wholesale Ethernet is the delivery of Ethernet services to out-of-franchise locations, and requires partnerships between Service Providers and Wholesale Access Providers. The Service Provider owns the customer relationship, and the Access Provider delivers off-net service connectivity.
Customers expect the same standard Ethernet services that are scalable, reliable that provide QoS and SLAs with service assurance. Intelligent demarcation is needed for multiple Classes of Service with SLA and service assurance for voice, video, and business critical data.
The challenge is how to deploy and maintain NIDs out-of-franchise where the Service provider has no facilities or technical personnel.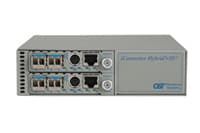 The iConverter HybridNID™ is a Network Interface Device that enables the delivery of carrier-grade wholesale Ethernet services across multiple-operator networks, and provides independent SLA verification when two Service Providers are delivering one Ethernet service. With the iConverter HybridNID installed at the customer premises, both a Service Provider and Access Provider (Wholesale Operator) can provision, manage and monitor the Ethernet service.
The HybridNID supports the features and functionality of a conventional NID and provides carrier-grade, MEF-certified Ethernet service demarcation. The HybridNID complies with IEEE 802.1ag Connectivity Fault Management and ITU-T Y.1731 Performance Monitoring. These end-to-end Service OAM standards enable the efficient detection and rapid isolation of potential service problems enabling SLA assurance while reducing Operational costs (OPEX).
Conventional NIDs are a challenge when Service Providers deliver services outside of their network (off-net), and must partner with Wholesale Operators to provide Ethernet business services or mobile backhaul.
Omnitron's iConverter HybridNID provides a single platform that delivers the Ethernet service via one User Network Interface and enables both the Service Provider and the Wholesale Operator to manage and monitor the Ethernet service.
Generate Value Added Revenue from Wholesale Services
Provide E-Access wholesale Ethernet services with end-to-end SLA assurance
Offer the HybridNID with VNID (Virtual NID) functionality and provide secure access to management, provisioning and performance monitoring
Hardware Cost Savings
No need for multiple devices at the customer premises
Single platform for inventory and sparing
Operational Savings
Easy to install and turn-up service
Deploy NID functionality uniformly
Time to Market
Zero-touch provisioning enables turn-up of services in days instead of weeks
System Reliability
Single device is more reliable than multiple devices
Compact platform is easier to maintain and troubleshoot
The iConverter HybridNID enables clear partitioning of responsibilities between the Service Provider and the Access Provider by incorporating two securely segregated management entities. The Access Provider owns, installs, manages and maintains the HybridNID, which is part of the Access Service, or "tunnel" that is leased by the Service Provider. The Service Provider has management access to provision service attributes. Both the Access Provider and Service Provider can independently and securely monitor OAM functions.

The HybridNID can be used in any deployment that requires delivery of carrier-grade Ethernet services with independent SLA verification. These include out-of-franchise wholesale Ethernet business services, and in-franchise (on-net) services where the subscriber has access to the other management entity in the HybridNID for value-added performance assurance.
With a HybridNID, the Service Provider can:
Offer the same Carrier Ethernet services everywhere
Deliver Carrier Ethernet without building facilities and staffing personnel out of region
Leverage standard interfaces for service management
Monitor the service from end-to-end (between both Subscriber locations)
Monitor performance of the Wholesale Access Service (frame delay, delay variation, and frame loss)
Use HybridNID Service OAM for service assurance and troubleshooting
With a HybridNID, the Access Provider can:
Provide carrier-grade Access Services
Sell a comprehensive package to Service Providers who need to extend service offerings
Lease a full-featured, Carrier Ethernet NID with Service OAM (ITU-T Y.1731 and IEEE 802.1ag) capability
Deliver bandwidth plus SLA assurance and classes of service
Allow the Service Provider to own the customer relationship
Most Wireless Carriers are served by different Backhaul Providers, or Wireline Operators. This requires Wireless Carriers and Backhaul Provider to work together to deliver Carrier Ethernet backhaul with a scalable, highly-reliable connection – and with strict Service Level Agreements. The iConverter HybridNID is designed for two providers collaborating to deliver an Ethernet service.
The HybridNID provides Ethernet service demarcation for performance monitoring of the entire (end-to-end) backhaul circuit, and also provides demarcation for the wholesale service from the E-NNI to the tower. With two logical demarcation points in a single device, both the Wireless Carriers and Backhaul Providers have Service OAM (ITU-T Y.1731 Performance Monitoring and IEEE 802.1ag Connectivity Fault Management) functions for SLA assurance.

Cell Tower Demarcation for both the Wireless Carrier and the Wireline Operator
Backhaul Provider
The Backhaul Provider installs, configures, hands-off and manages a transparent Carrier-grade Ethernet circuit, or "tunnel"
Has a logical demarcation point at the cell tower for performance monitoring of the wholesale tunnel originating at the E-NNI
Delivers an Ethernet connection plus classes of service
Provides Management Access
Leases a full-featured, Carrier Ethernet NID with Service OAM (ITU-T 1731 and IEEE 802.3ag ) capability
Wireless Carrier
Wireless Carrier builds end-to-end Carrier Ethernet services while monitoring SLAs through the tunnel and multiple networks
Monitors service from the Mobile Switching Center to the Tower
Monitors performance of the backhaul circuit (frame delay, delay variation, and frame loss)
Uses HybridNID Service OAM for service assurance and troubleshooting