Carrier Ethernet Service Demarcation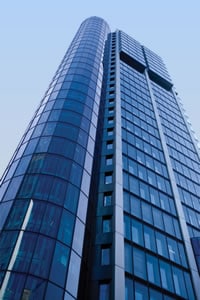 iConverter Network Interface Devices (NIDs) provide Ethernet service demarcation that enables rapid service activation, higher revenues with SLA assurance, and lower operating costs.
iConverter NIDs conform to carrier-class Service Ethernet OAM standards that provide the efficient detection and rapid isolation of potential service problems, and performance monitoring that enables Service Level Agreement assurance across one or more operator networks.
RFC 2544 and ITU-T Y.1564 Service Testing for rapid and validated service activation
ITU-T Y.1731 Performance Monitoring for Service Level Agreement assurance
IEEE 802.1ag Connectivity Fault Management for proactive fault detection and isolation
iConverter NIDs are MEF 9, 14 and 21 Certified Compliant and support User-to-Network Interface (UNI) functions to deliver E-Line and E-LAN services
Class of Service prioritization
Service Multiplexing for Virtual Private Lines/LANs
Traffic management, shaping and policing
Learn more about the different models of iConverter NIDs
Download White Papers at the Carrier Ethernet Resource Center
Learn the Concepts and Fundamentals with the Carrier Ethernet 101 Tutorial
iConverter NIDs Support the Entire Ethernet Service Lifecycle

iConverter Network Interface Devices provide tools for optimizing service delivery and managing the customer experience throughout the lifecycle of an Ethernet service. Network management combined with Service OAM provides higher perceived service quality and workforce productivity, rapid outage restoration, fewer reported problems and greater customer satisfaction.
Provisioning and Turn-up

iConverter NIDs support Zero-Touch Provisioning (ZTP), which allows Ethernet Services to be turned up quickly and accurately. ZTP allows service provisioning to be centralized, standardized and remotely managed. ZTP can fully provision devices including Ethernet Virtual Connections (EVCs), Bandwidth Profiles, Class of Service management and Ethernet Service OAM probes. ZTP accelerates service delivery and reduces the need for onsite technicians.
Once a service is provisioned, iConverter NIDs can be remotely controlled to validate the integrity of the end-to-end service with Y.1564 testing, and can run multiple test flows simultaneously. For example, when turning up multiple services with multiple flows, Y.1564 can ensure that internet access does not affect voice traffic. Service Providers who deploy iConverter NIDs can speed time to market and reduce operating costs by turning up services with fewer truck rolls and having less test equipment in the field.
Ethernet business services can deliver several applications, including voice, video and business-critical data. These applications can be backed by Service Level Agreements (SLAs), and Y.1564 provides the methodologies to quickly test Ethernet services. Y.1564 is the only standardized methodology for validating of Ethernet Service Level Agreements (SLAs) in a single test and provides validation with the highest level of accuracy. Once validated, a service is ready to be handed over to a customer.
Performance Monitoring

Ethernet services can deliver multiple applications (voice, video and data) and Classes of Service that ensure bandwidth for these applications. These services can be delivered as "best effort", or Service Providers can provide strict SLAs for different types of traffic.
iConverter NIDs enable the continuous monitoring of Ethernet services, and the collection of metrics for key performance indicators.
IEEE 802.1ag Connectivity Fault Management and ITU-T Y.1731 Performance Monitoring OAM probes inject test and monitoring frames in-band with the Ethernet service to measure a variety of service parameters. Probes and standards-based reporting mechanisms provide for periodic and historical measurements.
Delay Measurement
Transmit time-tagged delay measurement message (DMM)
Note time-tag of returned delay measurement response (DMR)
Monitoring time-tags give delay
Monitoring how delay changes over time gives delay variation
Loss Measurement
Transmit TX counter in loss measurement message (LMM)
Note TX/RX counters in loss measurement response (LMR)
Monitoring counters shows number of frames lost
NIDs provide end-to-end metrics for the Ethernet service
Fault Management

In the event a service fault, iConverter NIDs provide instant notification, and rapidly isolate the fault location across multiple networks. This ensures customer satisfaction by reducing network down time as a result of network faults.
iConverter NIDs proactively monitor the service, and in the event of a network fault, they instantly notify the NOC of a problem. Depending on the failure, there are a number of fault notification mechanisms:
Link down – loss of signal
802.1ag loss of Continuity Check Message (CCM), or heartbeat
802.1ag Loopback Message – to test the end-to-end service and confirm faults
802.1ag Link trace – to provide fault isolation to locate the segment outage
802.3ah Remote Failure Indication (Dying gasp, Link fault or other critical event)
Working simultaneously with fault detection, the iConverter NIDs support service protection features to minimize service down time:
Rapid Spanning Tree for Loop-Prevention and Link Fault Restoration
ITU-T G.8031 for end-to-end Service Protection
Link Failover for sub-50ms Link Restoration