iConverter CWDM Multiplexers/Demultiplexers and Add/Drop Multiplexers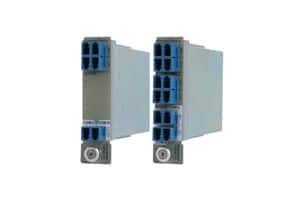 iConverter CWDM modules utilize a small and scalable plug-in form factor, and can be installed in any powered or unpowered iConverter chassis achieving some of the highest port densities in the industry.
The modules are designed to be integrated with other iConverter media converters and transponders to provide a true multi-service platform capable of delivering Ethernet, TDM, SONET and other services across a CWDM common link.
Omnitron's iConverter Coarse Wave Division Multiplexing (CWDM) Multiplexer/Demultiplexer modules support ITU-T G694.2 wavelengths between 1270nm to 1610nm in 20nm increments. iConverter CWDM modules are protocol and rate transparent allowing different services up to 10Gbps each to be transported across the same single-fiber or fiber pair link.
iConverter Multi-service Platform
CWDM Bus (Daisy Chain) Add and Drop Application
Point to Point CWDM with Pass Band on SONET Ring Application
CWDM Point-to-Point Campus Network
CWDM Case Study
This case study reviews how Line Systems, Inc., a full-service communications consulting firm, added Gigabit Ethernet services by overlaying data channels on their existing SONET network with CWDM Multiplexers.
iConverter CWDM/X Multiplexer/Demultiplexer
iConverter CWDM/X modules are available in 4 and 8-Channel (wavelength) models, supporting a variety of wavelength combinations and port configurations. The Single-Fiber iConverter CWDM/X modules are available in 2 and 4-Channel models. The CWDM/X Pass Band module can be used to cascade two MUX/DEMUX modules, doubling the channel capacity on the common fiber link (up to 16 channels).
iConverter CWDM/AD Add/Drop Multiplexer
iConverter CWDM/AD modules add (multiplex) and drop (demultiplex) selected channels, or wavelengths, in one or both directions of a CWDM fiber route. The iConverter 1-Channel CWDM/AD modules multiplex and demultiplex one specific CWDM channel from a common dual fiber or single-fiber CWDM fiber link. The iConverter 2-Channel CWDM/AD modules offer the same functions as 1-Channel CWDM/AD modules but for two specific CWDM channels on fiber pair links.